Hello Internet! 

 
Today I actually made it up for 5am and sunrise! We wandered to the beach and watched the sun come up over the reef which was quite gorgeous! Naturally we then went for a snorkel before cleaning up all our equipment from the night before and moving on to the data analysis. The graphs looked pretty good but the actual stats showed that it wasn't significant. But then, a non significant result is still a result! 
 
As a little break from work we went to the beach to sunbathe and snorkel before getting back to work on the project presentation! We also realised that we hadn't done the controls so we did those and then finalised our presentation ready for the morning.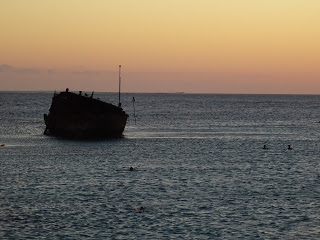 In the evening we got to do some plankton microscopy. It was really cool, looking at all the larval crabs/fish/worms and trying to identify them. My head hurt a little bit other than that using a microscope was a success!
 
I also went out a little ways from the station to look at the stars a bit, which was gorgeous, but eventually it was time to pack up and go to bed!