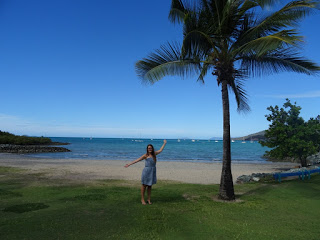 Hello Internet,
I feel particularly British whilst writing this; I am sat on a bar stool, overlooking the ocean (can just about see it) as I drink an Earl Grey tea in the 30 degree heat, all in the sake of wifi!
Airlie beach has been a much needed rest stop after a fairy hectic first few weeks of travel. The night I arrived I teamed up with some lovely Norwegian girls in my dorm and headed out for dinner as we had arrived too late for the in-house meal deal the hostel provided. During dinner we discussed what our plans were for the next day and arranged to have a generally lazy day and then head to the beach for some paddle boarding and a walk my mum had suggested.
I decided not to go the the Whitsundays on this trip, as hopefully I'll go with some of the gang later in the year! That's the plan anyway! I decided that this leg needed to be a bit of R&R, no massively adventurous hikes, no big explorations, just a day of chilling and relaxing and letting my body rest. I would definitely explore before leaving though! I just needed one day off!
Nice and not-so-early the next morning the tree of us went to the Sidewalk Cafe for breakfast, watching the palm trees and the sea while eating nutella and marshmallow french toast. It was rather decadent and I admit that I did feel a little queasy and hyped up after eating such a sugary breakfast, but it tasted so good!After a nice cup of tea I then went and lounged by the lagoon, after taking several photos of the town, wandered round some of the shops, and organised my accommodation and bus for Agnes Water/Seventeen Seventy before being joined by one of my new friends. We had a lovely morning swimming, reading and sun bathing before being joined by the other Norwegian girl. We tried to go paddle boarding but apparently the store shut at 3:30pm!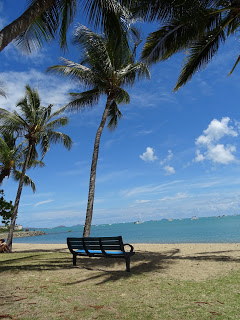 Instead we went for the walk and although pretty we found ourselves a little underwhelmed as there was a lot of building works going on and it was a lot shorter than anticipated! Although there were some cool sculptures and some very pretty boats. After that we grabbed dinner at the pub next to the hostel which had a deal for guests, so we had a drink and food for a really decent price before collapsing in bed.
The next morning I was up early, packing my things up and leaving the bag with the office before setting off on a walk. However, about ten minutes into the walk I happened to glance at the small print and I realised that the walk was supposed to be 30km and done over three days. Maybe not! Naturally I turned round and then continued the walk from yesterday, but in the other direction to the yacht club. I then rested and read on the beach once more before heading back to the hostel ready to get my bus back to the train station. The bus was on time. The train wasn't. But I did meet up with a bunch of British travellers that I had met on the last journey down, so we chatted for a while until the next train turned up. Then it was just a 6 hour slog through to Rockhampton, due to arrive at 1am!
Airlie beach was nice, but I feel like there wasn't all that much to do, it very much seemed oriented as a place to stay before or after visiting the Whitsundays. Regardless, it was quite a nice town and it was a good place to rest and relax for a day or two!