Hello Internet!
A one day post this time! Today I was up early and made my way to the Cairns bus station so that I could get the coach to Innisfail, where I had arranged to meet Marissa, who had agreed to show me around some of the highlights of the Atherton Tablelands. It was quite amusing, I was the only one to get on the coach with no luggage so I got a nice seat right up front and everything was wonderful!
After finding Marissa it was off in the car and driving through the rolling hills of the Tablelands. Now, I know it should have been covered in rainforest, but it was really, really pretty! The environment reminded me a lot of England, with the rolling hills and grazing livestock everywhere! Luckily we had a really good day for it too, the sun was shining and it was nice and warm.
First stop for us was the Silver Falls, after a little walk and spotting some cool insects en-route we arrived at the pool and I have to say, it was gorgeous. Seeing the waterfall in the middle of the tropical rainforest was absolutely stunning. Felt very isolated from the rest of the world, despite not even being a twenty minute walk away from the road!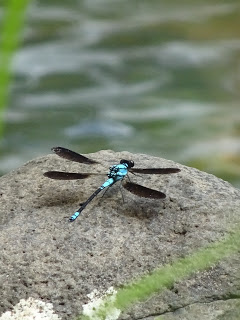 After that we went to the Milla Milla Falls, which were just as gorgeous! It's odd how being in the rainforest just makes a waterfall feel that touch more majestic! We contemplated going for a swim, but instead headed off to a crater lake, Lake Eacham. There were so many turtles! They were so cute! This is where we took a quick dip and cooled down a little in the mid afternoon sun and sat down to have some lunch while we dried off.
After a little bit of a sit down we headed off to Paronella Park. Paronella Park was gorgeous. The ruins of an old Spanish style hotel in the middle of a tropical forest, beginning to get overgrown and the architecture and lakes and stairs still there in amongst the trees… it was just stunning. I absolutely loved it, it felt like paradise. We weren't allowed to go for a swim in the lake though as apparently there was a chance that a crocodile had taken up residence and apparently sometimes it could be seen sunning itself on the banks. No thanks!!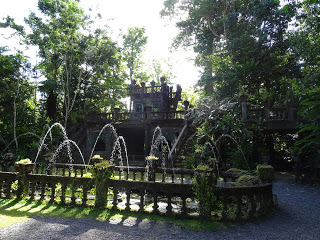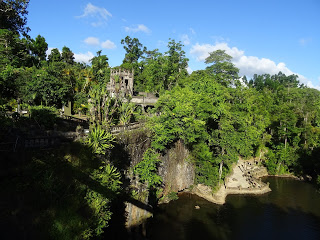 So after leaving the park Marissa drove me back to Innisfail where I caught the bus back to Cairns once more. After packing and a quick dinner it was to bed early as tomorrow I head south some more! Next stop, Townsville!